Patient safety and health
Patient safety and health
Social
The safety and health of patients is our top priority. We are committed to ensuring the quality of medications along the entire value chain
Our approach to this matter
Errors in medications or inferior quality may have serious consequences for patient health. At the same time, they pose a risk to Galenica's reputation. The digital transformation offers new opportunities for innovative solutions to increase patient safety. Galenica is committed to the quality of drugs along its entire value chain and takes the appropriate measures in terms of infrastructure, processes, and employee training and development.
GDP guidelines for good distribution practice
Alloga, Galexis, UFD, Pharmapool and the Bichsel Group adhere to the GDP (Good Distribution Practice) guidelines of medicinal products for human use. On the one hand, these statutory requirements aim to prevent counterfeit medications from entering legal supply chains. On the other hand, the quality and integrity of medications are safeguarded by means of checks along the distribution chain. Drug temperature is recorded and analysed in real time throughout the entire life cycle, from production through to delivery to the customer. If temperature deviations are detected, the causes are clarified and the correct measures taken according to GDP guidelines. Regional agencies for therapeutic products periodically perform audits to determine GDP compliance. Alongside these guidelines, the aforementioned companies also rely on their own standards and processes to ensure patient safety.
Systematic quality
HCI Solutions carries out process-integrated checks to ensure the quality of medication data. It applies the 4-eye principle when checking that medication data has been correctly entered, going as far as to adopt a 6-eye principle in the case of sensitive active ingredients (such as blood thinners). The company performs random-sample quality checks on a daily basis and a more comprehensive review every two weeks. Any error discovered is documented and its cause investigated.

The quality management system (QMS) of the former Retail Business sector encompasses standard operating procedures (SOP) for all relevant pharmacy processes, including the production and dispensing of drugs, data protection, confidentiality requirements, hygiene and the disposal of medications. Galenicare regularly reviews compliance with the SOPs in the individual pharmacies. In addition to these announced audits, mystery shopper programmes and calls, as well as inspections by cantonal pharmacists are organised three to four times a year. Galenica holds courses on the QMS and statutory basis for pharmacy employees several times a year. Employees complete certified courses and obtain certificates of competence for specific services such as the Cardio Test® (Herz Check®), Allergy Check, Diabetes Check and vaccinations.

The Bichsel Group attaches great importance to the quality of its products and services. The company carries out a large number of daily chemical and microbiological analyses to check finished products, raw materials and packaging and holds manufacturing licences, good manufacturing practice (GMP) certificates for medicines and EC certificates for medical devices in accordance with Directive 93/42/EEC of the European Council.

The Mediservice specialty pharmacy offers support for patients with chronic and rare illnesses, with complementary services such as home care services or patient events. In addition, it has a licence as a public pharmacy and a wholesale trade licence. Accordingly, Mediservice's QMS fulfils a broad range of requirements.

To Compliance/Quality Managment
Continuous monitoring of all products
At Verfora, safety efforts are centred around pharmacovigilance, meaning the continual monitoring of the safety of all Verfora products on the market. All new Verfora employees are trained in pharmacovigilance and receive a checklist of steps to be taken in the event of side effects. All employees undergo annual pharmacoviligance training. Advertisements and posters for products are also examined systematically for accuracy. The specialist unit for the approval and handling of medications is responsible for generally monitoring their safety. Quality checks are performed on new products placed on the market as well as on an ongoing basis for existing products on the market.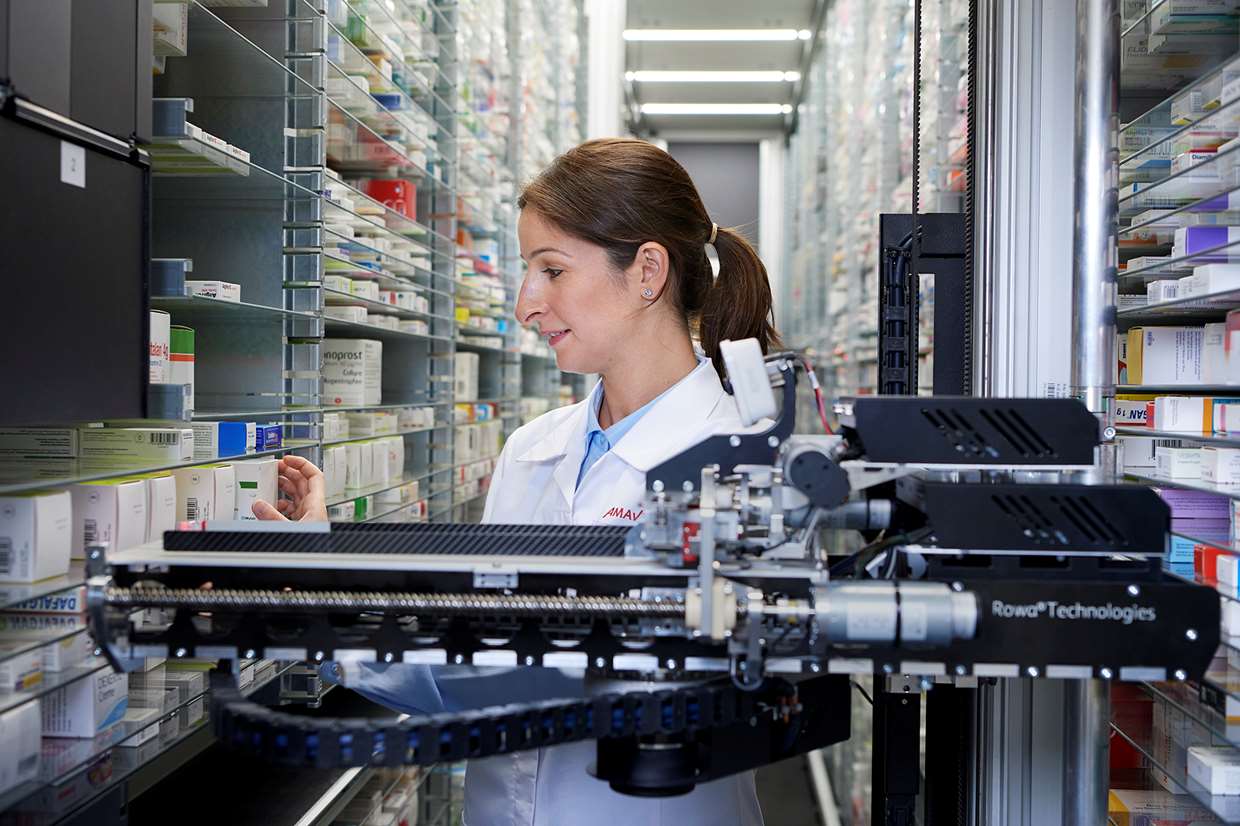 Facts and figures
Furthering employees' professional skills
Around 106 pharmacists attended quality management courses in 2020. Quality management and patient safety are also key components of basic training for pharmacy assistants working towards their Federal Proficiency Certificate. In the year under review, 254 apprentices successfully completed their training as pharmacy assistants, with or without a Federal Proficiency Certificate. Annual further training is obligatory for pharmacists with the title FPH (Foederatio Pharmaceutica Helvetiae) in retail pharmacy. Currently, 153 pharmacists are undergoing training in retail pharmacy.

Where required, Verfora offers training sessions in pharmacies when new medications are launched in order to promote staff skills and ensure patient safety and health. In 2020, Verfora completed a total of 328 training sessions for 3,050 pharmacy assistants and pharmacists. Face-to-face training was scaled back compared with the previous year due to the COVID restrictions.

Above-average quality at pharmacies
Together with health insurer CSS, Galenica operates a quality label that recognises pharmacies offering particularly good patient service and professional advice. The label is aimed at noticeably improving quality for customers. 96.5% of all Galenica pharmacies delivered above-average performance in the year under review, meaning they achieved an audit result of more than 70%, and were thus able to obtain or renew the quality label. This is equivalent to an increase of 2.5 percentage points over the prior year.
All vehicles GDP-compliant
Galexis, Alloga, UFD, Pharmapool and the Bichsel Group each operate their own fleets, which together comprise 168 delivery vans (up to 3.5 tonnes) and 5 heavy-duty trucks. All vehicles are GDP-compliant and are fitted with an air conditioning system in the loading space, which is mandatory for the transport of pharmaceutical products.
Employees adhering to pharmacovigilance
At Verfora, all employees have a duty to submit to the responsible internal department any reports of side effects received from specialists and patients promptly and in full. Relevant information in this regard includes the duration, progression and outcome of the side effect, as well as the dosage and duration of product use. Verfora documents and investigates each report, taking appropriate measures where necessary. In 2020, employees submitted 97% (target: >90%) of reports on side effects within the requisite period. The authorities or contractual partners were notified within the required period in 100% of cases (target: >90%). Completeness of information was exemplary, reaching 98% (target: >80%) of all cases.
Documedis® integrated in electronic patient record
HCI Solutions is making a key contribution to the electronic patient record (EPR) with the digitalisation of the medication plan. Cantonal and interregional healthcare networks in Switzerland are setting up so-called reference communities in connection with the electronic patient record (EPR). These are certified by the Federation and can then offer an electronic patient record under federal legislation. The first reference community was certified in 2020. HCI Solutions' Documedis® medication solution offers various modules for the electronic patient record.
Improved access to medication
Since the start of 2019, pharmacies have been able to dispense certain prescription medications over the counter without a doctor's prescription, subject to certain conditions being met. For many patients, this is a fast, safe and straightforward solution when they have acute symptoms. In this way, the Galenica pharmacies are making a significant contribution to the safety and health of patients. Over the last few years, Galenica has been offering training and further education to help pharmacies and support them in their new role. Pharmacists can also obtain the Certificate of Competence in Medical History in Basic Healthcare Provision to strengthen their new skills. In 2019 and 2020, 160 Galenica pharmacists completed the training. Further information can be found in the coverage in the annual report 2020 (from page 34).
Enhanced patient safety thanks to algorithms
The new Documedis® Primary Care Algorithms module guides pharmacists through the consultation using targeted questions and gives recommendations based on the defined algorithms and patient information entered. HCI Solutions implemented a total of 11 algorithms in 2020, including for conditions such as allergic rhinitis, reflux disorders and urinary tract infections. It is planning further algorithms – including for acne, shingles and burns – for 2021. Further information can be found in the coverage in the annual report 2020 (from page 34).
Uninterrupted cold chain for medications
Alloga and Galexis ensure an uninterrupted cold chain for the storage and transportation of temperature-sensitive medications. At Alloga, this also applies to so-called ultra-deep-freeze logistics, in other words, storage and dispatch at –80°C, the required temperature for a new generation of cancer drugs. In preparation of the deliveries of COVID-19 vaccinations, Alloga expanded its deep-freeze and ultra-deep-freeze logistics in the year under review. The temperature is ensured by means of dry ice in special containers. Alloga and Galexis also use new paraffin cooling elements, which unlike the previous water ones provide a more stable temperature for drugs. The share of refrigerated products transported stood at 5% in the case of Galexis' own fleet and around 30% in the case of third-party carriers in the year under review.
Pharmacies offering COVID-19 tests
The Galenica pharmacies are making an important contribution to overcoming the coronavirus pandemic. In mid-November 2020, the first few Galenica pharmacies started offering coronavirus antigen rapid tests as well as PCR tests. By the end of 2020, this number had risen to 38, with 72 Galenica pharmacies throughout Switzerland currently offering coronavirus tests. By the end of 2020, the pharmacies had performed 8,010 COVID-19 tests. Pharmacists must undergo special training in order to perform coronavirus tests. On top of this, the pharmacies require the appropriate infrastructure allowing the statutory distancing and hygiene rules to be observed. The physical separation of testing and special protective material ensures that the persons to be tested, the other customers and the employees are protected from COVID-19. Amavita, Sun Store and Coop Vitality have installed Plexiglass protective shields at all counters and are providing disinfectants and regulating the flow of customers. In addition, the pharmacies have expanded their services such as home deliveries of medicines and online "click & collect" ordering. In this way, customers can conveniently order medications at home and collect them at the pharmacy of their choice.
Survey by medical specialists of skin problems arising in pharmacies
In 2020, Amavita launched a pilot project in conjunction with the online-based dermatology network onlinedoctor.ch. Patients with skin problems receive competent first-line treatment at pharmacies. In more complex cases, the pharmacist receives professional support from dermatologists at the onlinedoctor network. For this purpose, the pharmacist photographs the skin problem and transmits the photograph together with a description of the symptoms to onlinedoctor.ch via a secure app. Within 48 hours – indeed usually even after a few hours – the pharmacist receives a specialist report, concrete recommendations and, if necessary, a prescription for the patient. This partnership ensures that patients are given an uncomplicated and competent assessment of their skin problem directly at the pharmacy.
Outlook for 2021
Pharmacies will be offering COVID-19 vaccinations in 2021. HCI Solutions is additionally expanding the functionality of Documedis®. Against the backdrop of the revised Therapeutic Products Act (TPA), additional algorithms, e.g. for burns and warts, are being planned for 2021. In addition, the training courses for pharmacists to obtain the Certificate of Competence in Medical History in Basic Healthcare Provision will be continued.