Spotlights
Driving into the future in an eco-friendly way
The first gas-powered vehicle has been in operation at Galexis since March 2021. Fuelled entirely by biogas, the transport of goods is environmentally friendly. This is a key step towards sustainable logistics for the Galenica Group.
Biogas is produced by the fermentation of organic waste products and is both renewable and climate-neutral. This means that the same amount of CO2 would be released if the organic waste materials decomposed naturally and unused. Therefore, there are no additional CO2 emissions generated, as is the case with fossil fuels. Biogas-powered vehicles not only emit less CO2 than vehicles with diesel or petrol engines, but they also produce fewer pollutants that are harmful to the environment and health, such as particulate matter.
The biogas-powered vehicle transports non-pharmaceutical products, such as consumables, in a climate-neutral manner between the distribution centre in Niederbipp and the external warehouse in Oensingen. It covers between 250 and 300 kilometres in a week. A positive economic side effect are the low operating costs, which are around 30% lower for a gas-powered vehicle than for a diesel- or petrol-powered vehicle. The feedback from the drivers is also very positive: «The vehicle is pleasant to drive, quiet and comfortable,» says Stefan D'Onofrio, driver at Galexis. Based on the positive experience, Galexis procured and put into operation another gas-powered delivery vehicle at the end of 2021.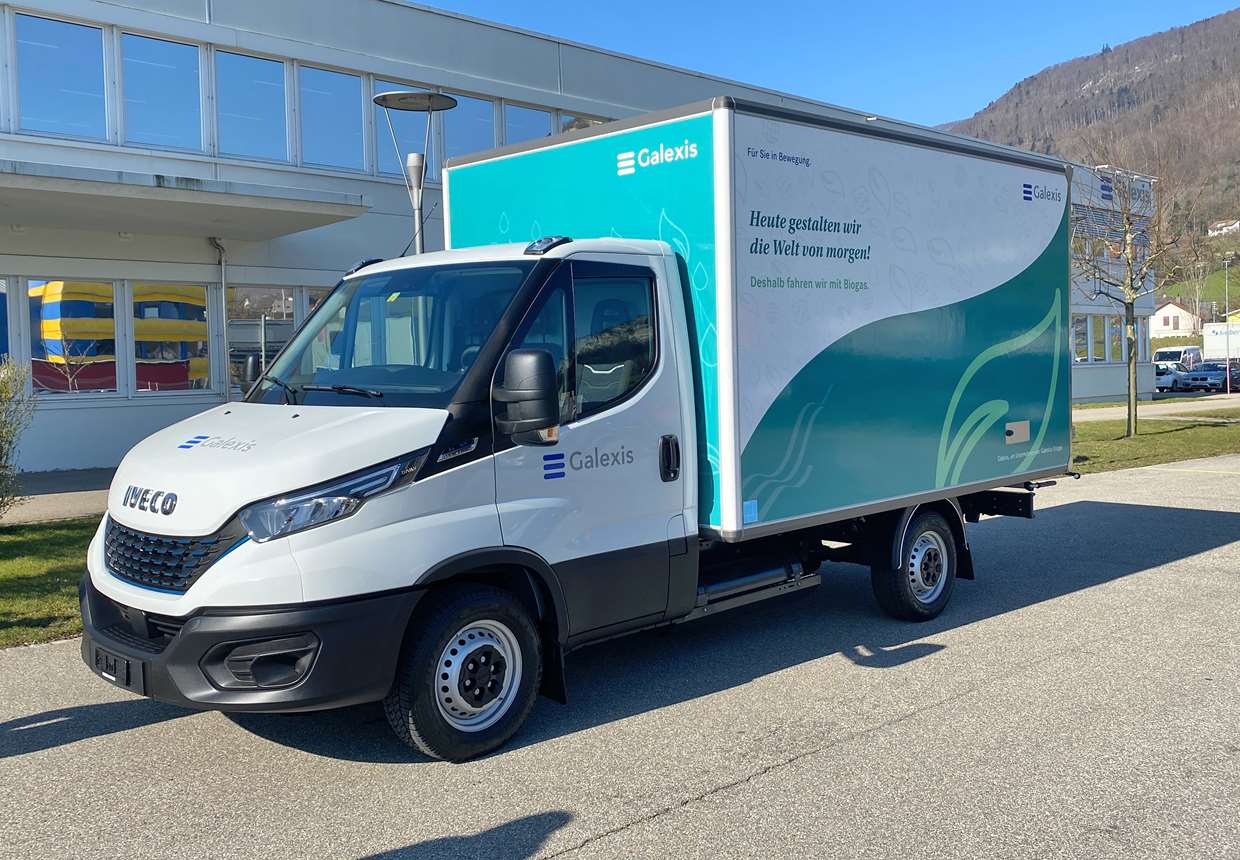 Throughout the Galenica Group, goods transport is the principal source of direct and indirect CO2 emissions. In order to reduce greenhouse gas emissions, the use of renewable energies in logistics is therefore of key importance. We have set ourselves the goal of replacing 40% of the fossil fuels in our own vehicle fleet with renewable propulsion by 2028. In doing so, we are contributing to the Swiss climate targets, which are aiming to halve greenhouse gas emissions compared between 1990 and 2030.